We run through the puddles looking for earthworms. It's an annoying rainy day in Frankfurt. But what are you supposed to do with your kids on a day with so much rain in Frankfurt and the surrounding area? Sit around in the hut? No way! We always have to get out, otherwise the ceiling will fall on our heads. Here are some excursions with kids that are fun even in the rain.
Mini golf in 3D and black light
Advertising: You can swing the mini golf club in black light with 3D effects and great graffiti at the Schwarzlichthelden in Frankfurt. Why it is a great indoor destination also for families, you can read here.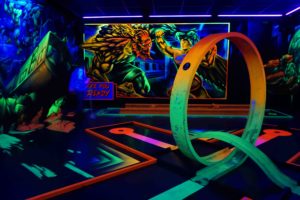 Climbing in the somewhat different climbing hall
Advertising: The clip'n climb Frankfurt is the somewhat different climbing hall for kids from 4 years. Here, young and old can test and overcome their limits.
Museums are fun especially in the rain
Museums are simply great. Museums are especially popular on rainy days, but so what? The main thing is warm and dry!
We are particularly fond of the following museums:
These museums are still on our list:
MINISchirn for kids between 3 and 8 years. Here, children discover one room after another, just like in a giant tree house. A world of colors, shapes and structures lies before them. We still have to take a look!
Städel – Es gibt ein schönes Kinderprogramm im Städel und ermöglicht den Kindern den ersten Kontakt mit Kunst auf spielerische Weise. Anmeldung nicht erforderlich!
ESA – Darmstadt is home to the ESA's space control center, where public tours are held from time to time. That would be something for all space travelers! The tour must be booked in advance. Attention: the tickets are always sold out very quickly!
Frankfurter Zoo
What? In the rain at the zoo? Sure, because there are great houses at Frankfurter Zoo where you can stay for a long time:
Grzimekhaus – the hazus is for nocturnal animals, it is dark and exciting for children.
In the exotarium you can see everything that crawls and crawls, in addition to sea creatures. On the 1st floor is daily the tropical storm with the crocodiles (11:30 and 15:30).
Cat jungle – watch tigers, lions and other pussycats through a large glass pane and in the dry
Great Ape House – in the Bogori Forest the monkeys literally race through the forest! Here they romp, quarrel, play and romp and children just can not get enough of it. And here, too, everything is covered and dry.
Indoor-playgrounds
Dino Adventure Park – A large indoor playground with climbing forest and river ride – past the dinosaurs. We definitely want to go to the Dinopark!
Shopping in Loop5 in Weiterstadt – In the shopping center Loop5 in Weiterstadt there are some (free) indoor playgrounds and besides you can go shopping. This can be a lifesaver on a rainy day.
Tolliwood – the classic indoor playground offers everything from ball pools to bouncy castles and climbing towers to make children's hearts beat faster.
Reader tip: These excursions with children are fun even in the rain
Off to the swimming pool
In Frankfurt, kids under 15 get into the municipal pools for free. Kids love the Rebstockbad in Frankfurt, but unfortunately it will be torn down and rebuilt starting in April 2020. Other ideas: Seedammbad, Titus-Therme, Rhein-Main-Therme.
*I got the tips from Mon_bianca_mon (via Instagram).
You liked the rain article?
More excursion tips for Frankfurt with children
Follow me on my social media channels
You can also find current destinations, insider tips, events and inspiration from me on my social media channels:
Feel free to drop in, I'm looking forward to seeing you!